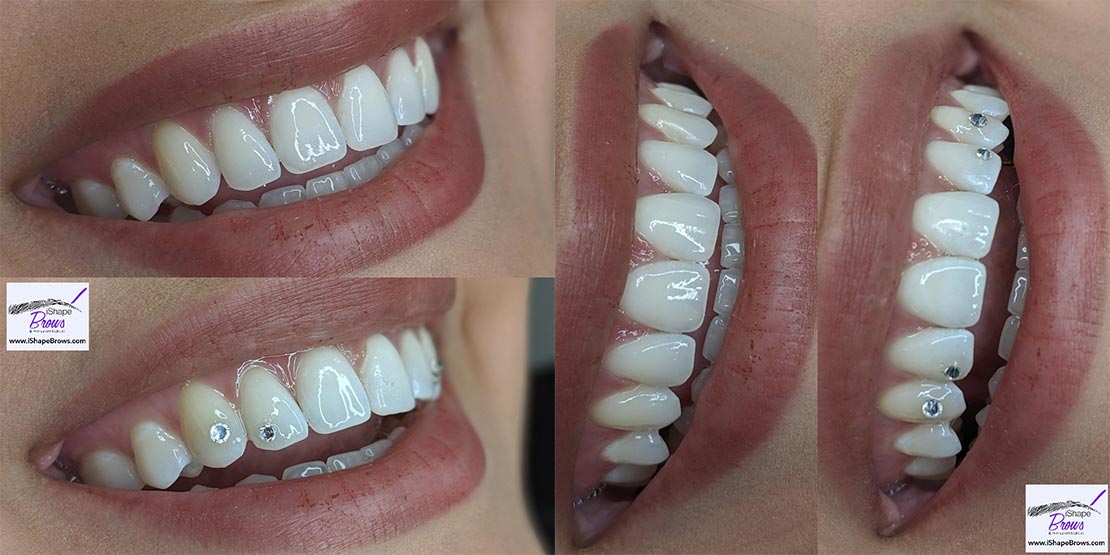 What Are Tooth Gems?
Tooth gems are tiny jewels we glue to your front teeth. They are like a sparkly accent nail for your smile. (They've recently become popular because of celebrities, such as: Ariana Grande, Drake, Kendall Jenner and Hailey Bieber)
What Are Our Tooth Gems Made Of?
The tooth gems we give you are 100% Swarovski crystal.
How Do You Apply The Tooth Gems To My Teeth?
We use dental grade glue, THE SAME GLUE USED FOR BRACES, because it protects the natural color of your teeth.
IMPORTANT: WE ONLY USE DENTAL GRADE GLUE so that we protect the natural beauty and color of your teeth. You don't have to come to us, but make sure whoever applies your tooth gem uses dental grade glue.
Why Choose Us?
Because we know teeth! Portia Has 17 YEARS OF ORTHODONTICS EXPERIENCE
Incorrect application of Tooth Gems can lead to:
Tooth discoloration as a result of using an improper adhesive
Tooth decay
Tooth infection
Enamel wear
The gem being a magnet for food pieces and bacteria
That means you need to be careful when you pick a technician to apply tooth gems for you. Don't trust just anyone with your teeth! 😬
As a Registered Dental Assistant and Orthodontic Assistant, Portia spent 17 years putting braces on clients. (For example, from 2008 - 2010, Portia worked for Dr Simister Orthodontics in Boca Park. From 2010 to 2014, Portia worked for Robert Thalgott in Summerlin).
She completed her Registered Dental Assitant examination at UCLA.
Prilla, Portia's tooth gem technician has been TRAINED BY PORTIA and BENEFITS FROM HER 17 YEARS OF DENTAL (ORTHODONTICS) EXPERIENCE.
However, SO THAT ONLY THE CORRECT DENTAL GRADE PRODUCTS TOUCH YOUR TEETH, Portia buys the tools SHE DOES NOT LEAVE ANYTHING TO CHANCE, because the CORRECT GLUES AND MATERIALS ARE REQUIRED to protect your teeth!
What Is The Procedure Like?
Application of one tooth gem takes only 30 minutes
The procedure is completely painless
There is NO DRILLING and NO HOLES
We simply clean the surface of the tooth and then use DENTAL GLUE so that the application WILL NOT HARM the tooth and so that the gem can be easily removed later, whenever you decide you don't want it anymore
Can I Remove The Gem Later?
Yes! This is not permanent. One reason we use dental glue, the same glue used for braces, is so that you can remove the gem, AT ANY TIME, without damaging the tooth!
If you later decide you want the tooth gem removed, you can come to us. 👍 However, we ONLY REMOVE TOOTH GEMS FROM OUR OWN CLIENTS because we know we use the correct dental glue. (We don't know if every other tooth gem provider is using the correct glue.)